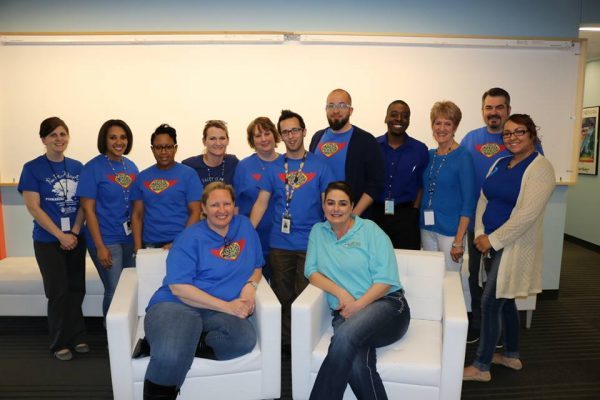 Mission
To provide foster and adoptive children a stable, loving and nurturing family environment by support and advocacy for abused and neglected children and the families caring for them.
History
FosterAdopt Connect (formerly Midwest Foster Care and Adoption Association) began in 1998 as a small support group formed by an experienced Teaching Foster Parent, and a brand new, energetic foster parent. The group originally consisted of members of a small STARS (pre-service) training class who got together monthly at the Baptist Mission Center in Lee's Summit, Missouri, to share a potluck dinner, talk about their experiences and bring in speakers who could help them work through any issues that came up as they fostered.
Through word of mouth, the group began to expand. A core group of about eight families became committed to the grassroots idea of foster and adoptive parents helping each other improve the lives of abused and neglected children. That core group formed an informal steering committee tasked with envisioning an organization that would provide supportive services to a far larger group of foster and adoptive families.
Assistance for families
The group decided that foster and adoptive families needed a center, an actual physical location, where they could come together to find the services and supports they needed in a 'one stop shop.' Within the center there would ideally be assistance with food, clothes, furniture, school supplies, holiday gifts and other physical necessities. But more importantly, there would be training from experts who could provide information that would be pertinent to the work they were doing. There would be support and mentoring from other foster and adoptive families who had lived the same kinds of experiences they lived. There would also be help in solving the problems that foster and adoptive families face in trying to navigate the social services, mental and physical healthcare and educational systems to find their kids the help they needed.
Determined to create a Foster and Adoptive Family Resource Center, this core group divided up tasks. One foster parent located an empty building and began discussions with the owners about leasing it at little or no cost. Another foster parent had experience in running food pantries from his history of working within a church. Several foster parents worked together sitting at a kitchen table to write an application to the IRS for their non-profit designation.
Beginning in 1998, a small support group for foster and adoptive parents came together sharing meals, discussing their experiences, and hosting speakers that helped them work through their families' unique issues. But the group had a much bigger vision.
The growth of an idea, and a new name
Community foundations and donors expressed interest in this unique organization, and Midwest Foster Care and Adoption Association was officially founded in 2000, incorporating and receiving its 501(c)3 designation. The organization opened its first Foster and Adoptive Family Resource Center in a large school building at 1700 Blue Ridge Boulevard in eastern Kansas City, Missouri. The resources of several families were combined to form a food pantry, clothes closet, furniture exchange, resource library and more. Volunteer foster parents staffed the Resource Center full time, and the foster and adoptive parent community of the Greater Kansas City area came together to connect with the resources available and the friendship and support they'd so desperately needed. MFCAA's member family participation quickly grew from 20 families to more than 400 families.
In 2002, the organization formed its first community Board of Directors, and in 2004 the organization hired its first paid staff member. In 2008, MFCAA began offering licensing services for foster, adoptive and kinship families in Missouri. In 2010, MFCAA began recruiting homes for 'hard to place' children and youth in foster care. And in 2012, in response to a dramatic increase in the number of children coming into foster care in the Kansas City area, MFCAA created and launched the Family Connections Intake and Assessment Shelter, designed to quickly and safely rectify situations which have brought children into foster care for the first time. In the spring of 2016, MFCAA was renamed FosterAdopt Connect to remove geographic barriers and better reflect the work of the organization. Although our name has changed, our mission and our support for kids and families has remained the same.
FosterAdopt Connect has become a stable and thriving non-profit social service agency, staffed by professionals (many of whom also have a personal tie to foster care and adoption as parents, family members and children who were fostered or adopted) devoted to meeting the needs of foster and adoptive families and the children they serve. The organization is widely recognized as 'the' advocacy organization representing the interests of children in foster care and children adopted from foster care in the state of Missouri, and is a national model for successful parent led support and advocacy.
Email Lori Ross, President and CEO, for more information.
FosterAdopt Connect has been recognized locally, regionally and nationally by the child welfare community for its innovative and responsive programs and services and has received local and national honors for its tireless work advocating for the needs of foster and adopted children and their families.