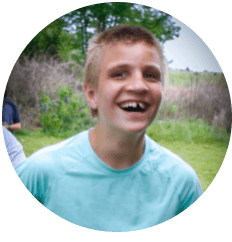 Tony is a five foot, six-inch-tall fifteen year-old Caucasian male. He has light brown short hair and brown eyes with a big smile. Tony is limited on activities that he can do on his own but he would make a deal with a friend if they would take a walk with him or even take him for a car ride. Tony likes to talk but it can take some time for him to warm up to new people. Tony enjoys listening to music, especially lullabies; watch a Paw Patrol movie or even eat some of his favorite burgers. Tony would take a McDonald's or Wendy's burger and fries any day of the week.
Tony will be a Freshman for the 2023-2024 school year. Those people who know Tony have shared that he is funny and likes to joke around. He enjoys going for walks, car rides, talking with people on the phone, or simply spending time with those who he has built a relationship with.
Tony would thrive in a structured, nurturing home with support, consistency and love instilled in his daily routine. He would do best in either a one or two parent home with him being the only child or the youngest child in the home without any pets.
If you would like to learn more about Tony,
please contact:
Melissa Haggard
melissa.haggard@FosterAdopt.org
816-381-7445
Extreme Family Finding at FosterAdopt Connect
18600 E 37th Terr S,
Independence, MO 64057