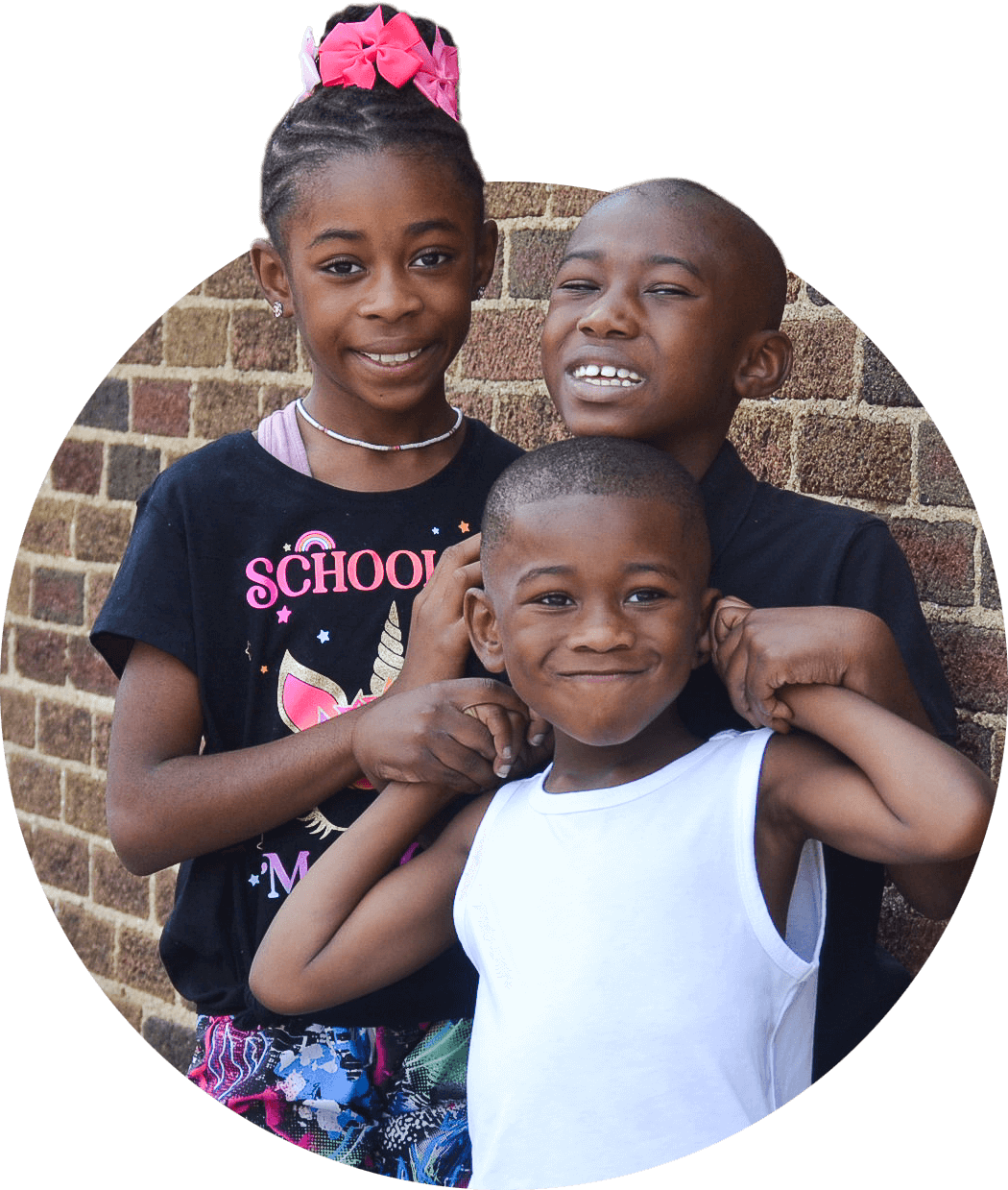 RaNiyah, Ronnell & Monte
Meet RaNiyah, Ronnell & Monte! This sibling trio has a bond that cannot be broken! RaNiyah is a nurturing, loving and self-sufficient eleven-year-old. RaNiyah enjoys playing outside, jumping on the trampoline, swimming, coloring, getting her hair done, singing, or listening to her favorite music artist That Girl Lay Lay. Her favorite colors are Magenta and Cyan. RaNiyah is in the 5th grade for the 2021-2022 school year. Her favorite subject is "recess because I get out of class and get a little bit of freedom." Her other favorite class subjects are Physical Education, Science and English. One day, RaNiyah dreams of becoming a gymnast. Her favorite food is chicken. If RaNiyah could pick any activity to do she would choose to carve pumpkins. She reports her favorite holidays are Halloween and Christmas. If she could have one superpower she would have "magic so I can fix things." If RaNiyah could pick anywhere to go, she would choose Disney World, Science City or LegoLand in Crown Center, or a waterpark. Her pet of choice would be a parrot but could settle with a kitten or puppy.

Ronnell is a talkative nine-year-old. He loves to play outside, play football, and take trips to the Library. Ronnell says others would describe him as the fastest kid in class. Ronnell reports that he is really good at "drawing stuff and cutting it up, like drawing a pumpkin and cutting it out." Ronnell is in the 3rd grade for the 2021-2022 school year. He reports that he likes school and his favorite class is Reading. Ronnell's favorite book is Dangerous Creatures and says he looks for really interesting books but his word of advice is "don't judge a book by its cover." Ronnell's favorite holiday is Easter because he gets to eat lots of candy. His favorite food is pizza and if he could choose anywhere to go it would be Chuck-E-Cheese. His superpower of choice would be to be invisible. He loves animals and if he could pick a pet of choice, it would be a "pack of wolves that are trained." His favorite colors are blue, red and green. His favorite movie and song is Zombies 2.

Monte is a cheerful and happy six-year-old. He is always smiling. Others report that he is silly, playful, social, energetic, creative, loving and outgoing. In Monte's free time, you will find him outside playing, riding his bike or scooter, swimming, playing basketball or watching the TV show PJ Masks. Monte is in the 1st grade for the 2021-2022 school year. He reports that he likes school and his favorite subject is Physical Education because he likes to run laps. His favorite song is Tennessee Whiskey by Chris Stapleton. Monte has many favorite holidays but most of all his favorite is Easter because he gets to hunt for eggs. His superpower of choice would be to have "spidey webs so I can catch the bad guys." His favorite animals are elephants and dragons. If he could visit anywhere he would pick the park to play tag or football. Some of his favorite superheroes are Iron Man, Batman, Flash and Black Panther.

The siblings would do best in a two-parent home, however, all inquiries will be considered. The siblings are being recruited together, therefore, only inquiries on the sibling group will be considered. The trio will thrive in a home that is structured, consistent, nurturing and a family that can be supportive of their continued relationships with their three younger siblings.

If you would like to learn more about RaNiyah, Ronnell & Monte,
please contact:
Elizabeth Wiggins
Elizabeth.Wiggins@FosterAdopt.org
816-350-0654
Extreme Family Finding at FosterAdopt Connect
18600 E 37th Terr S,
Independence, MO 64057