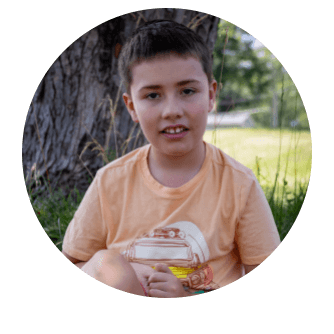 Electronics are always exciting for Michael! Described as a 'visual' child, he never grows tired of watching cartoons. His favorite cartoons include: Paw Patrol, Dog movies, and Super Wings. He loves getting comfy and watching a movie when the mood strikes. Michael loves making forts and enjoys being included in activities. He thrives in parallel play with peers. Michael's favorite thing is to hold his foster placement's hand while moving about his day.
Michael is a timid dude, but once he warms up to you then he's fine. He does like animals but again is timid so he has to get warmed up with the animal first. He does however like to play fetch with dogs. He's the cautious kid, and likes to take life a little bit slower. He'll initiate contact with people by wanting squeezes, he loves the tickles and turns it into a hide 'n seek game. He stems by flapping his hands, making noises with his mouth, and finds himself to be HILARIOUS!
Some of Michael's favorite hobbies are swimming, water park, movies, trampoline, being outside, listening to music, YouTube, zoo, carnival, any water play, rocking in bed, he LOVES pillows, and soft blankets, playing with blocks, paw patrol, marvel movie marathon, feeding the fish/ ducks, going to the lake, and chocolate chip cookies. This 4th grader uses a book that has photos in it and sign language to communicate his needs and wants. Michael can write his name.
Michael would thrive in a structured, consistent, and nurturing home with support and love instilled in his daily routine. Michael would do good in a multiple kid home; older kids or around the same age; but he does require 24-hour supervision. He would benefit most from a family who is patient, and can provide for him emotionally.
If you would like to learn more about Michael,
please contact:
Melissa Haggard
Melissa.Haggard@FosterAdopt.org
816-381-7446
Extreme Family Finding at FosterAdopt Connect
18600 E 37th Terr S,
Independence, MO 64057