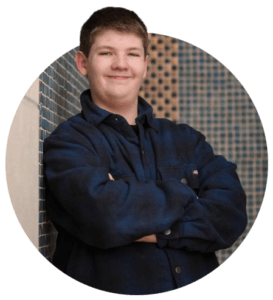 Jason is 15 years of age. Jason describes himself as caring, helpful, calm yet energetic, artistic, and respectful. Others would describe Jason as having a good personality, sweet, creative, and inventive. In Jason's free time you can find him playing computer video games, listening to music on YouTube, creating Superhero suit's, riding bikes, or flying a remote control drone. Jason's favorite holiday is Christmas because "I get to spend time with my family and all gather around opening gifts." Super speed is Jason's Superpower of choice so "I can travel around the world and be back before anyone knows I was gone." Jason loves animals and his favorites are baby bunnies, puppies, and kittens because "they are so cute and fluffy." He also likes lizards, turtles, snakes, and frogs.

Jason likes summer the best and dislikes "broccoli without cheese, spinach, and Brussels sprouts" the most. A few of Jason's favorite foods are macaroni, fish, shrimp, and hot chips. If he could pick any restaurant he would choose "Panda Express and order Orange Chicken, Lo Mein Noodles and Rice." One day Jason hopes to fly in a helicopter, plane or ride in a train. "I kind of like it, but not really" is the first thing that comes to mind when asked about school. Jason is in the 8th grade for the 2021-2022 school year. He likes Science and Art the best and Math the least.

Jason would love to be in a home with "a mom, a dad, to be the oldest, with a younger brother, a younger sister, and one kitten, and one puppy." Jason's professional team reports he would thrive in a home where Jason has siblings his age or older, a two parent home, and parents who can provide consistent structure, and patience. All families will be considered. Jason is legally free for adoption.

If you would like to learn more about Jason,
please contact:
Elizabeth Wiggins
Elizabeth.Wiggins@FosterAdopt.org
816-350-0654
Senior Extreme Family Finder at FosterAdopt Connect
18600 E 37th Terr S,
Independence, MO 64057