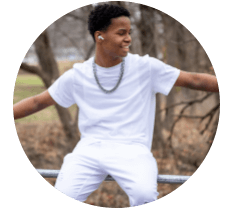 Del'Vyon is a witty, charismatic teen. Del-Vyon takes great pride in his appearance and enjoys earning money so that he can buy things for himself; he loves his shoe collection! Del'Vyon has an appreciation for art, and basketball- two of his favorite things. When he's not outside enjoying some fresh air shooting hoops, you can catch him displaying his skills on the controller, whether that being playing building games or basketball games. Del has a huge heart for all animals but monkeys and dogs are his favorite. If he could pick any dream day, it would be to start with paintballing and ending at Worlds of Fun with a buffet somewhere thrown in. Del would love to learn to hunt and take a firearm safety course. However, Del would prefer to live in an urban area as that is where he has always lived. Del does not like the idea of living in an area in which you have to drive a distance to the nearest store.
Del'Vyon has a love for making others laugh and loves when he is acknowledged for his hard work. Del does well in school and states that his favorite classes are math and science. Del has stated in the past that when he grows up he would like to be a lawyer or work for an agency like Modot. However, recently Del has stated that he has always had an interest in photography. If you find yourself acknowledging the beauty of a turbo charged car, you have something in common! Del describes his dream car as a Hellcat with a white leather inside and a carbon hood.
Del'Vyon would do best in a two parent home with structure and compassion. Del'Vyon would do best in a home that can provide him emotional support and patience.
If you would like to learn more about Del'Vyon,
please contact:
Melissa Haggard
melissa.haggard@FosterAdopt.org
816-381-7445
Extreme Family Finding at FosterAdopt Connect
18600 E 37th Terr S,
Independence, MO 64057