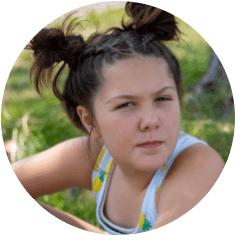 If you are in need of some creativity with some crafts or paint; look no further! Ashlynn loves to use her imagination while painting, or using items that she can find around the home to build things. She always has ideas for new creations to build or paint.
Ashlynn is the wild child, in the best way possible. Nothing scares her, she's always up and ready to try something new. Ashlynn has always loved the outdoors but recently has started branching out a playing at waterparks, feeding the fish at the lake. Ashlynn has been able to experience new outing this year that she has become fond of. She loves to ride horses, carnival rides, the zoo, or even just spending the day at the river or lake. She likes to feel the calm and coolness of the water in her hands. Ashlynn is a busy bug who is always on the go looking for new things to do. Like all kids, Ashlynn loves to color, play on the trampoline, and watch cartoons, her favorites are ones with dragons, batman superheroes or Pokémon. Ashlynn's favorite day is to go shopping at Target, get her hair done, nails painted, going to Starbucks, or simply cuddling up and watching a movie.
Ashlynn is in the 5th grade for the 2023-2024 academic year. She attends a school that is focused to meet her needs. Ashlynn is able to say one word or short sentences to communicate her wants and needs, she has the capability & willingness to learn and she can follow directions.
She adores dogs and the color black. Ashlynn is happy, loving, and nurturing; she enjoys bonding with close adults. She does enjoy music and YouTube. Ashlynn's current caregiver says her dreams for Ashlynn include she stated increased independence, especially with self-care, an increase in her communication & advocacy skills, continue experiencing new things & enjoying life. Ashlynn would love to have people who support her development and growth.
Ashlynn would thrive in a structured, consistent, and nurturing home with support and love instilled in her daily routine. Ashlynn would do best in a home with her being the only child as she does require 24-hour supervision or in a home with other children with parents that understand her needs. She would benefit most from a family who is patient, and can provide for her emotionally.
If you would like to learn more about Ashlynn,
please contact:
Melissa Haggard
Melissa.Haggard@FosterAdopt.org
816-381-7446
Extreme Family Finding at FosterAdopt Connect
18600 E 37th Terr S,
Independence, MO 64057